"An internal error has occurred" RDP connectie server 2016 (Error 10013)
Indien er bij het verbinden van een RDP sessie naar een Windows Server 2016 server de melding komt "An internal error has occurred" is er zeer waarschijnlijk een probleem ontstaan met het RDP certificaat.

Bij het verbinden van een sessie verschijnen onderstaande meldingen in de eventviewer van de betreffende server.
Event 1057 – RD Session Host Server has failed to create a new self signed certificate to be used for RD Session Host Server authentication on SSL connections. The relevant status code was Object already exists.
Event 36871 – A fatal error occurred while creating a TLS client credential. The internal error state is 10013.


De oplossing/workaround hiervoor is het verwijderen van onderstaande key. Bij de eerstvolgende RDP connectie wordt er een nieuw certificaat gegenereerd.

Na connecten zal er weer een certificaat staan. De verbinding werkt weer naar behoren.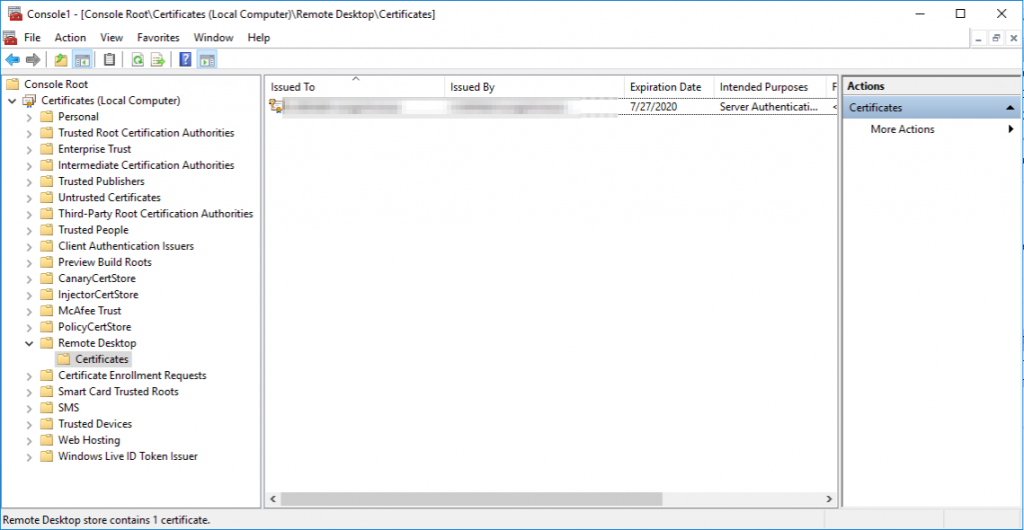 https://www.jeroenvanroon.nl/wp-content/uploads/2018/10/JeroenvanRoon_ITblog_spacing-1.png
0
0
Jeroen van Roon
https://www.jeroenvanroon.nl/wp-content/uploads/2018/10/JeroenvanRoon_ITblog_spacing-1.png
Jeroen van Roon
2020-01-27 08:44:52
2020-03-29 13:07:34
"An internal error has occurred" RDP connectie server 2016 (Error 10013)